Course Description
The MA in Accounting is a focused twelve-month programme that develops the analytical capacity of participants to deal with advanced and complex Accounting issues. It has been designed specifically to meet the needs of honours graduates in Business/Commerce who have taken major accounting specialisms in their undergraduate studies.
It allows graduates to combine study for a Masters/PG Dip with study for professional examinations in an educationally effective way.All the participants on the programme will have come from similar backgrounds and it is therefore possible to include both professional and conceptual material on the programme.
This is the ideal preparation for a career in accountancy. This highly innovative Professional Masters was introduced in 2004 and is proving both popular and successful. It was developed in close collaboration with the Professional Accounting Bodies and attracts generous exemptions.
If you are committed to a career in accounting, this course will enhance your analytical skills and teach you advanced accounting subjects in theory and in practice. The course provides postgraduate education and training at the forefront of accounting and accounting-related practice.
Key features:
Generous exemptions from ACCA, CPA and CAI.
Proven track record with professional exams.
Two month industry placement
100% employment record including the Big 4.
Leading national and international best practice speakers.
For information about Letterkenny Institute of Technology (LYIT), please visit our College Profile page on
Postgrad.ie
by clicking
here
.
Course Provider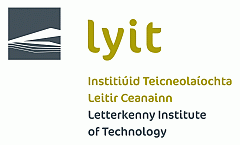 Port Road, Letterkenny, Donegal, Republic of Ireland